This assignment was definitely fun. Getting to watch scenes from three of my favorite movies was delightful.
For this fifth assignment from my New Digital Media and Social Media Class, after learning in class, I needed to created two to three GIFs.
I decided to be more dynamic for this assignments so I chose three movies. These were The Post, You Don't Mess With The Zohan, and The Emperor's New Groove.
WARNING: If you have plans to watch all, some or one of these movies, do not read the following paragraphs because I might spoil some things.
For The Post, I chose this scene because it reflects machismo (this is a term said in Spanish-speaking countries) a.k.a. inequality of the sexes. The protagonist Katharine Meyer Graham is constantly judged by various male figures because they believe "because she is a woman she cannot run a company". I chose it because it reflects how Kat Graham does not let herself be affected by her colleagues' opinions.
For those of you who haven't seen the movie, I suggest you watch it. This movie is based on a real life story, Katharine Meyer Graham's story. She was the owner of The Washington Post after her husband, Phil Graham, died. Interesting enough, it is when she is running the company that her employees discover important government documents from the Pentagon and she stays with the decision whether or not to publish the government secrets. This is a great movie and I also chose it because it reflects the important of the press when the government needs to be audited.
On the other hand, You Don't Mess With The Zohan is not a serious movie AT ALL (it's obvious since Adam Sandler plays the protagonist). This movie focuses on the protagonists' life, Zohan Divr's life. As an Israeli, he was the best warrior against terrorism in his country. However, deep down, what he truly wanted to do was cut hair. Therefore, he moves to New York to pursue that dream. And from the beginning till the end you'll be laughing of all the nonsense and unrealistic things that happen in this movie. If you have nothing to do and want to laugh, I suggest you watch it.
For the second GIF, I chose You Don't Mess With The Zohan because even though I think it's stupid, I really enjoy watching this movie and I find it very funny. Specifically, I chose this scene because it obviously shows one of the multiple unrealistic actions that the protagonist does in the movie.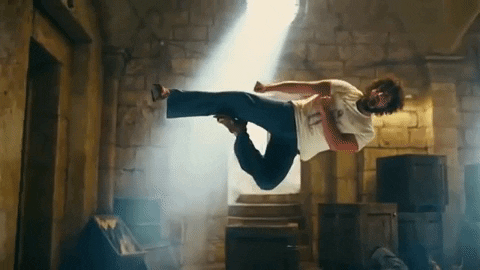 Last but definitely not least, I chose The Emperor's New Groove for my third GIF. I need to write that I LOVE THIS MOVIE. I'm a person who believes that we should never stop being children, in fact, we should embrace it. Therefore, I chose this scene because it's funny and I like how fascinated Kronk (the tall guy) is with the potion and how Yzma (the one next to him) looks so evil (spoiler: she is).
This movie is about Kuzco, a young spoiled emperor, who focuses so much on himself he forgets about the people around him. Yzma, Kuzco's counselor, gets so sick of Kuzco's arrogance she tries to poison him in order to get his throne but she justs ends up turning him into a llama. Kronk accidentally gets rid of Kuzco by putting him in a peasants' cart. Kuzco and the peasant get lost in a rainforest and from that moment on in the movie, Yzma and, her assistant, who is not evil at all, Kronk look for Kuzco and viceversa. My love for this movie aside, I definitely recommend it because it's a very genuine, very creative, sarcastic and funny.
All of the movies are commercially available at Youtube. 
Also, these are the links of the YouTube videos I used: