Most of the time, when we think about ways to become sustainable we, most often, think of reusable water bottles, bamboo toothbrushes and bamboo utensils.
Probably, our first thought isn't menstrual cups. This may be because it's a product for women, however, it's one of the sustainable products that is less talked about in the sustainable products conversation.
Likewise, because, besides the fact that it has a smaller group of consumers than reusable water bottles, it's surrounded by myths, fear, and taboo.
Menstrual cups have been around since the 19th century. In June 14, 1884, Hiram Farr patented the Menstrual Receptacle which was a menstrual cup that was connected to a bag that sits in between the woman's legs and that could be emptied when necessary.
In 1937, American actress Leona Chambers patented the first menstrual cup made from latex rubber. This cup was the first modern cup created that was similar to the contemporary ones women use.
[Menstrual cup.png by Wikimedia Commons. CC licensed.]
But, what makes menstrual cups sustainable?
Feminine hygiene products have a huge impact on our environment because they take 500-800 years to decompose and, if burnt, they will, most likely, release toxic chemicals into the atmosphere.
Sanitary napkins take 500-800 years to decompose because they contain super-absorbent polymers and a layer of polyethylene (both made of plastic).
Menstrual cups are sustainable because they are reusable and can last up to 10 years which is a significant difference taking into consideration that a women approximately uses 2,640 pads and or tampons in 10 years.
[Fleurcup and tampons.jpg by Wikimedia Commons. CC licensed.]
According to The Chic Ecologist, 12 billion pads and seven million tampons pollute the landfills annually in the United States.
Meanwhile, The News Minute says that India's menstrual waste is estimated to be 1,13,000 tonnes annually.
At the same time, the disposable products leave a carbon footprint of 5.3 kg CO2 equivalents expressed Shreya from Harvard Business School.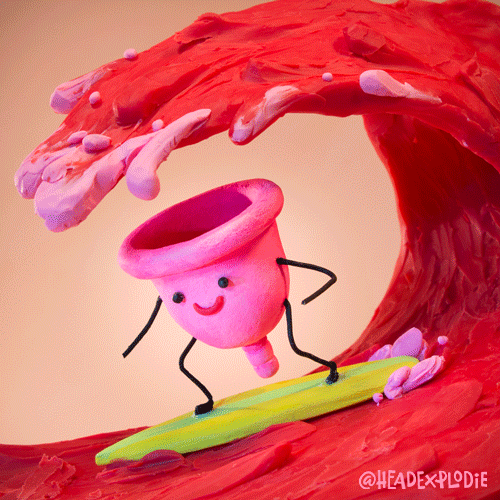 References:
[Featured image: Photo by
Charles
. CC licensed.]